Keeping Pests Out of Your Houston Hotel Is Best Left to The Professionals
12/31/2019
December can be a great month for the hotel industry. During this holiday season, more people are traveling from one place to another. Hotels are busier than ever with cheerful guests ready to celebrate their winter break. However, the increase in activity can also be dangerous for hotel owners. With more travelers, pests may hitch a ride into your hotel. There are several year-round pests that thrive with human travel. Learn the best way to protect your hotel from these pests and save your business from wasted money and lost customers.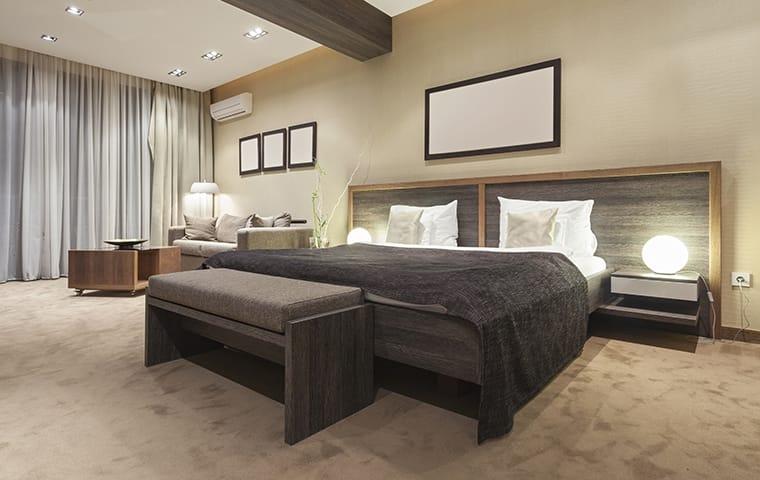 What are the most common hotel pests?
The pests you should worry about the most this holiday season are bed bugs, termites, and cockroaches. All of these bugs can survive through the winter since they spend a lot of their time indoors. Bed bugs travel with people, so they can easily slip inside when a guest unknowingly brings them in. Termites aren't as noticeable to guests, but they can cause intense property damage. Cockroaches can get inside almost any building, and they're a surefire way to scare away guests. They may be attracted to food or moisture, or they may just be escaping the cold by hiding inside your hotel.
Why are pests a problem this time of year?
Any pests that live indoors can be a problem year-round. Our climate control helps them survive the winter. Plus, in Houston, the winter doesn't get cold enough to kill off every pest. Therefore, hotel owners never have a true break from pests. In fact, during the holiday season, you may have more pests trying to get inside than at other times of the year. This happens for two reasons: one, pests want to get out of the cold and find shelter for the winter, and two, pests such as bed bugs travel with people, so are more active whenever people are actively traveling. As you see an increase in guests, make sure to increase your pest prevention as well!
How damaging can a pest problem be?
We already mentioned that termites can cause severe property damage. They eat away at the wooden structures of buildings, and the damage can be irreparable. Other pests can cause property damage or damage to materials and products as well. However, the real danger pests bring to hotels is the danger of lost clients. Pests are a quick way to a ruined reputation. If you have pests, word is sure to spread, and you could lose customers for months after you've eliminated the infestation.
How can you prevent a pest infestation?
The best way to keep this from happening in your hotel is to invest in year-round pest control. At It's Bugs or Us, we offer fully customizable pest control options. Prevention is easier, cheaper, and better than elimination. Our year-round pest control plans target different kinds of pests that you might encounter throughout the year. You may be asking yourself about the cost of year-round pest control. We can assure you that year-round pest prevention costs less than emergency pest elimination after you've discovered pest damage and have lost clients. Don't leave the future of your hotel up to fate. Contact It's Bugs or Us and let us save you time and money with year-round prevention customized to fit your hotel's unique needs.